StrongPosture® Exercise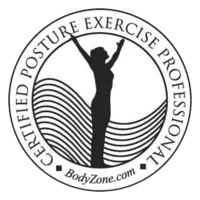 First we'll assess the mechanics of how your body is moving with a posture picture assessment and then will work with you to create a customized treatment plan that includes exercise to improve your posture. The StrongPosture® exercise protocols we are certified to teach systematically strengthens posture by working on all three elements of posture: Balance, Alignment and Motion. We will focus on one element at a time to buildawareness and increaseyour ability to control that element, building a virtuous spiral of postural strength.
Improving posture has been shown to relieve pain and joint stress, while also improving balance, energy levels, functional motion, and flexibility, ability to breathe deeply, appearance, confidence and athletic performance.
Subtle changes in posture spreads to all your daily habits, which is why the StrongPosture® exercise protocols we teach have helped thousands to look, feel and perform at their best while minimizing postural and joint stress.